By Matthew Hickey •
Hickey
• 16 Feb 2013
It was a privilege and honor for me to interview 2012 Firestone Indy Lights Champion and 2013 IZOD Indycar rookie Tristan Vautier! Born in France, Tristan came to America in 2010, where he raced in Star Mazda and finished fifth in the championship with two wins. In 2011, Tristan was unstoppable, winning four races, while also not finishing outside of the top five in any race on his way to win the championship. Moving up the next rung of the Mazda Road to Indy ladder, Tristan won four races in his first season in Indy Lights, going on to win the championship. Now he reaches the final rung of the ladder, the IZOD Indycar Series, where he will pilot the #55 Schmidt Peterson Motorsports car, the same team he was with in Firestone Indy Lights. Here is the interview, enjoy!
1) Reflect back on your 2012 Firestone Indy Lights season.What does it mean to you to be crowned the champion?
TV: It just feels like a great accomplishment for me but also my for my team, who was able to bring me to the title as a Rookie. It takes a great group of people around a driver to help him get up to speed quickly and win a championship on a Rookie campaign. It feels like a lot of good things happened to me since I came over to USA back in 2010, and now that I have a great seat in the IZOD IndyCar Series, it's on me to make the most of it to ensure I keep progressing.
2) Congrats on signing with Schmidt Peterson Motorsports for the 2013 season! Describe the emotions you are feeling following the signing.
TV: It felt like a big relief after a long winter! At some point I was really wondering whether I was going to make it to the IZOD IndyCar Series or not, but the test in Sebring really made things move forward. After the signing I just felt relieved, extremely lucky, but more than anything, I felt excited about the upcoming season!
3) Let's get to know you a little better. What do you like to do in your free time? What is one thing most people don't know about you?
TV: I love working out, hanging out with friends and going to the movies, even if I don't do it often. One thing people don't know about me… well I kind of like singing in the shower, and in my road car.
4) You will be teammates with fellow Frenchman Simon Pagenaud for the upcoming season. What does it mean to you to have a teammate like Simon?
TV: It's a huge opportunity for me. I have a lot of respect for Simon and everything he has accomplished in his career. He is going to be an incredible reference for me and I'm sure driving alongside him is going to be a great advantage. Hopefully once I get used to the car we can both learn from each other and push the whole team forward. We get along very well and I'm really looking forward to working with him.
5) What are your expectations for the 2013 season?
TV: I know it's a boring reply but I don't set myself any precise goals, especially considering we haven't even started pre-season testing. As we get closer to the season it will be a little easier to give myself some performance goals, but I usually try to focus on what I have to do rather than what result I have to accomplish.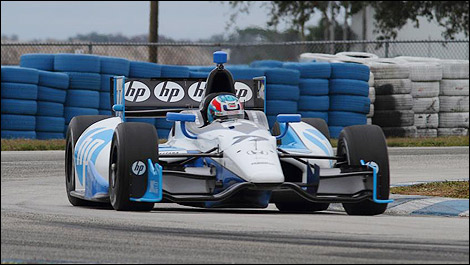 6) You drive for an owner who is regarded as one of the most passionate and all around nice guys in the paddock in Sam Schmidt. What do you think of Sam as an owner and as a mentor?
TV: It's incredible to run for a guy like Sam. Seeing what he has been able to build in his career as a team owner, and how quickly he has been able to achieve so much success is incredible.  People should be inspired by that, it forces respect. Sam's passion is huge, and it's very easy to know that he is here to win, and has a great ability to hire the right people to help him accomplish that. He's very easy to talk to and is nice to everyone. He is a great team owner to have and it's an honor to represent him.
Thanks a bunch for Tristan for doing this interview, as well as the well PR staff at SPM for their assistance in the interview process!
-Matthew Hickey @Indycar_MN